Removing Odors From Your Business After Flooding
2/15/2022 (Permalink)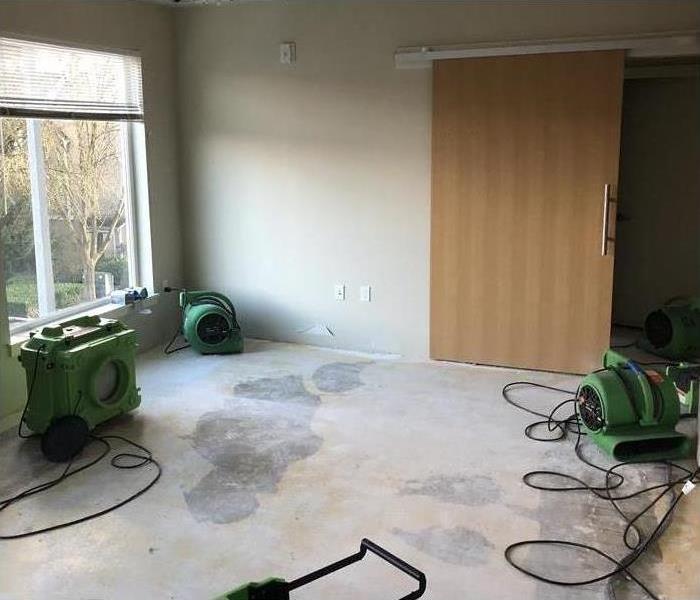 The drying equipment we use at SERVPRO is top of the line in the restoration industry. Call us when you need it!
After A Flood, How To Get Rid Of Odors In Your Business
A flood is devastating enough, but the aftermath can leave you with extensive cleanup, meaning that your business may experience lengthy interruptions during restoration. Mold growth becomes a serious concern after flooding, and it can also lead to the development of musty odors. Thankfully, there is a process to eliminate and prevent mold while simultaneously dealing with the smell.

1. Eliminate Excess Moisture

The first step to removing odor is to eliminate the excess moisture. You may need to rent or purchase pumps and air movers to help dry out the flooded areas. You can also purchase dehumidifiers and place them around to help minimize the humidity levels throughout the facility.

2. Ventilate the Affected Areas

While ventilation may spread mold growth, if you have controlled the level of moisture through the building, you can reduce this risk. Ventilation is essential to reducing odor. Air movement will help to dry everything out further.

3. Remove Contaminated Debris

Flood water can harbor a lot of bacteria that in turn starts to smell. You can remove the contaminated elements of your business to reduce the odor. For instance, office chairs, carpets and drapes can hold moisture which leads to odors.

4. Disinfect Disaster Area

Once water and debris are removed, you can begin the process of cleaning and disinfecting the space. However, floods caused by sewage loss may require a disaster restoration specialist in the Greenlake, WA, area to properly clean and disinfect the space, this is generally in you and your employee's best interest.

While mold growth is a concern after a flood, the odor that stems from stagnant water, bacteria and mold may be a more dire issue. As long as you act fast, mold development can be mitigated which means that the odor is the next critical problem for most business owners. Follow the steps above or contact a specialist to get your business back on track sooner rather than later.